¡Hola a tod@s!
Bueno, ya estamos a viernes, y si me paro a pensar, se me ha pasado la semana volando, ayer cuando quise darme cuenta estabamos a jueves. Ha sido una semana un tanto productiva y por eso se me ha ido el santo al cielo.
Quiero enseñaros mis dos lecturas actuales, ambas en inglés, aunque la más extensa está publicada en castellano, pero desde el principio decidí leer la saga en ese idioma, ya que las traducciones, por lo que me han comentado, son bastante malas. Hablo de la saga Outlander. El otro libro, no se ha publicado aquí y no se hará en un futuro.
El apasionado romance entre James Fraser y Claire Randall tuvo lugar cuando ella emprendió un peligroso viaje a través del tiempo desde mediados del siglo XX hasta llegar al siglo XVII. Embarazada de la hija de ambos, volvió a su tiempo creyendo que él iba a ser ejecutado en la cruenta batalla de Culloden en 1746. Tras veinte años y siendo su hija ya mayor, Claire aún llora en silencio la pérdida del hombre al que amó. Pero cuando algunos indicios la llevan a pensar que Jamie puede estar vivo, decide regresar al pasado para reunirse con él. Aunque destino volverá a unirlos, juntos deberán abandonar las islas británicas para llegar a las exóticas islas del Caribe, donde un sinfín de acontecimientos pondrán en peligro su vida… y su amor.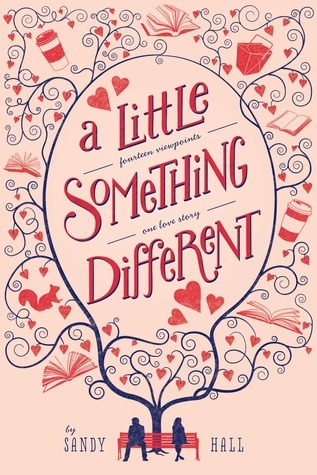 A little something different de Sandy Hall
The creative writing teacher, the delivery guy, the local Starbucks baristas, his best friend, her roommate, and the squirrel in the park all have one thing in common—they believe that Gabe and Lea should get together. Lea and Gabe are in the same creative writing class. They get the same pop culture references, order the same Chinese food, and hang out in the same places. Unfortunately, Lea is reserved, Gabe has issues, and despite their initial mutual crush, it looks like they are never going to work things out. But somehow even when nothing is going on, something is happening between them, and everyone can see it. Their creative writing teacher pushes them together. The baristas at Starbucks watch their relationship like a TV show. Their bus driver tells his wife about them. The waitress at the diner automatically seats them together. Even the squirrel who lives on the college green believes in their relationship.
He de hacer una pequeña puntualización, ya que el 8 de marzo se publicará una nueva edición completa de Viajera y con una nueva traducción. Llevo poco más de 100 páginas (de 1.059 que tiene) y es pura adicción, porque quieres saber más y más del futuro de Jamie y Claire, que es lo va a pasar y eso te incita a no parar de leer.
En cuanto al libro de Sandy Hall, es un libro corto y que se lee muy rápido, no como Viajera que no te puedes perder detalle alguno. Está narrado de una forma muy original, al principio cuesta situarte un poco ya que la historia está narrado desde diferentes puntos de vista. Es muy entretenido y divertido, sobretodo cuando aparece la ardilla XD
¿Que os parecen? ¿Los habéis leído? ¿Pensais hacerlo?
Besos y que tengáis un buenísimo fin de semana.